The Civil War Talk Radio Companion
---
We Are Fans of Civil War Talk Radio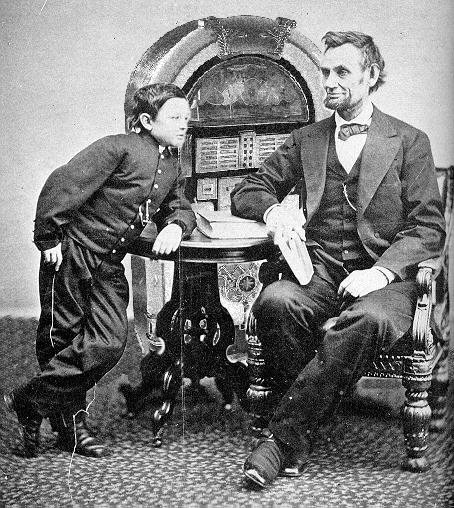 Recently uncovered photo of Abraham Lincoln and son, Tad, anxiously
awaiting word from the front via Civil War Talk Radio (circa 1862).
About this Site
This website evolved from a database I created to orginize my CWTR files. For the first 2 seasons, I recorded the shows to CD so I could listen to them in the car. I later donated the CDs to my Civil War Roundtable's library for other members to enjoy. The database was used to create CD labels, CD cases and provide show descriptions for inclusion in the library set.
I have continued updating the database over the years. It became very useful when the show's production company was sold and the new owners deleted their old website where all the show information was stored. The new "official" website is not very user friendly and the show's host, Gerry Prokopowicz, is unable to update the content easily.
Mr. Prokopowicz has produced a huge body of work on the Civil War with his shows. I believe that it is a worthwile project to try and help document the shows and hopefully provide a place for fans, new and old, to gain better access to the shows. I have put forth this effort on my own and at my own expense.
As full disclosure, the links you may see for Amazon.com books throughout the site are part of the Amazon Associate program which I joined. For any purchases made through the links, Amazon will give me a small advertising fee. The fee is a tiny percentage of the purchase price and is at no additional cost to the purchaser. I do not anticipate making any money off this site, or even cover my expenses for the site hosting. I joined more becuase the program gives me a really easy link interface to add to my site. I have used Amazon a lot to research the authors that Gerry interviews and assume that others will do the same.
Gerry has asked us to add his PayPal Donation button to the website homepage (see upper right of the home page). All donations go directly to Gerry. Also, for any donation of $20 or more, Gerry "will be happy to send an autographed copy of either
Did Lincoln Own Slaves?
or
All for the Regiment,
and also a portion of each donation will go to support the Impediments of War website. (Please note that contributions to Civil War Talk Radio are NOT tax deductible.)" Gerry has been very generous to our site and has offered to send a portion of his donations to help cover the costs of hosting this site. We are very gratefully to him.
I hope you enjoy the site!
Mark
About the photo at the top of our website: The photo is of the Engineers of the 8th N.Y. State Militia, 1861, listening to Civil War Talk Radio on their Jukebox....one of the lesser known Impediments of War.